Rich in colonial history and bordered by miles of sugar-white sand and turquoise water, Jupiter, Florida, is home to some of the most stunning coastline in the country. With temperate weather year-round, residents and visitors have endless ways to enjoy and celebrate the water of this region. Here are a few of our favorites.



Boating

Boating is a classic staple of southwest Florida culture. There are few sensations more indulgent than flying over blue waters in a rented yacht with sea spray in your hair and sunshine in your eyes. With a variety of premium boat rental services, barrier islands to explore, and dockside restaurants, boating is an excellent way to enjoy Jupiter's seaside location.

Boat ownership is a privilege, but renting is a simpler, more affordable alternative. Jupiter Inlet Boat Rental offers the best service of its kind in the area. In operation since 2000, Jupiter Inlet offers rentals and memberships for deck boats, fishing boats, cruising boats, and more. Located just two miles from the tip of Jupiter Inlet, they provide faster access to the open ocean than any of their competitors.

On your vessel, the nautical world of Jupiter is yours. St. Lucie Inlet State Park is an absolute must-visit. A nature reserve accessible only by boat, this paradise is home to hammocks of live oaks, pristine beaches, and nesting areas for loggerhead turtles. Leave the hustle and bustle of daily life behind as you spend a day exploring this unspoiled paradise.

Next, jet across the tropical waters and arrive at the barrier island bordering Peck's Lake. There, miles of gorgeous beaches free of any sort of development await you. Should you wish to return to society, Jupiter is home to many dockside restaurants serving fresh and delicious cuisine, including Jetty's Waterfront Restaurant, U-Tiki Beach, Square Grouper Tiki Bar, and more.

When you rent a boat, a stunning and exclusive side of the Jupiter area unlocks just for you.



Loxahatchee River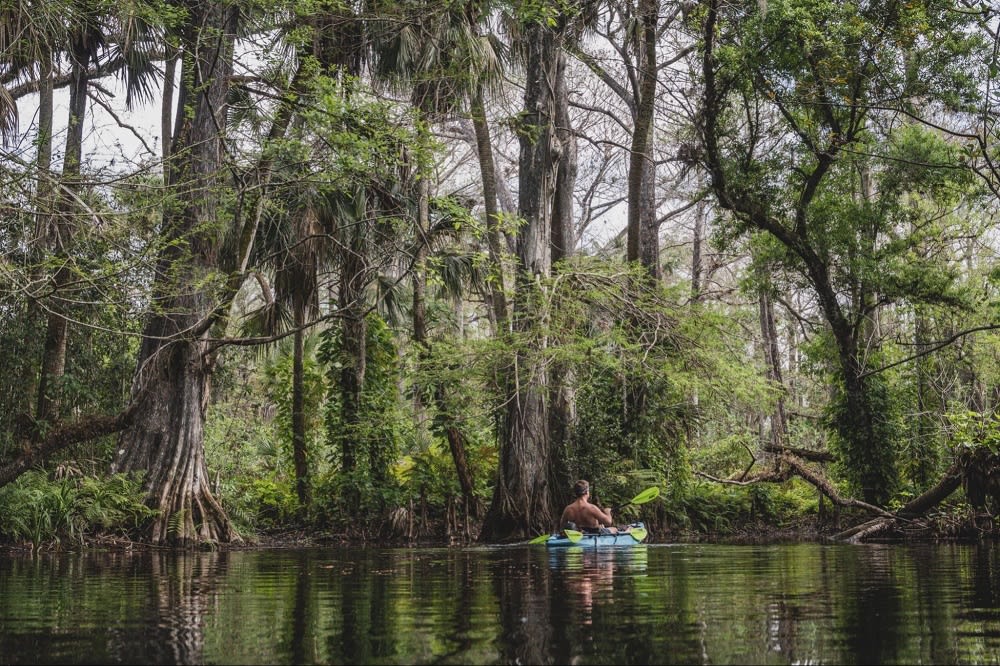 One of the natural treasures of Florida, Jupiter is blessed to have a federally designated "Wild and Scenic River" running through the community. This 260-square-mile ecosystem is home to 10 distinct fresh and saltwater habitats filled with native wildlife to witness and explore.

The River Center is a comprehensive environmental stewardship and educational center for the Loxahatchee. Housing aquatic tanks and interactive exhibits, the center is an excellent space for children and adults alike to learn about the extraordinary ecological habitat in their backyard. The center also offers a selection of summer camps for children to spend their season connecting to new friends and the natural world around them.

The best way to appreciate the beauty of the Loxahatchee River is to travel down it. The nearby Jupiter Outdoor Center rents canoes, kayaks, and bicycles so you can explore the area at your leisure. Spend your day traveling down the slow-moving river, protected from the sun by the canopy of cypress trees arching over the waterway. In addition to the tropical and temperate vegetation, visitors regularly spot exciting animals like storks, alligators, bald eagles, and more.

This diverse watershed is one of the most important natural features of Florida and is home to a variety of endangered species. Snaking all the way from deep inside Jonathan Dickson State Park and through Jupiter before emptying into the Atlantic Ocean, the Loxahatchee River is a gorgeous and defining feature of the area.



1000 North Restaurant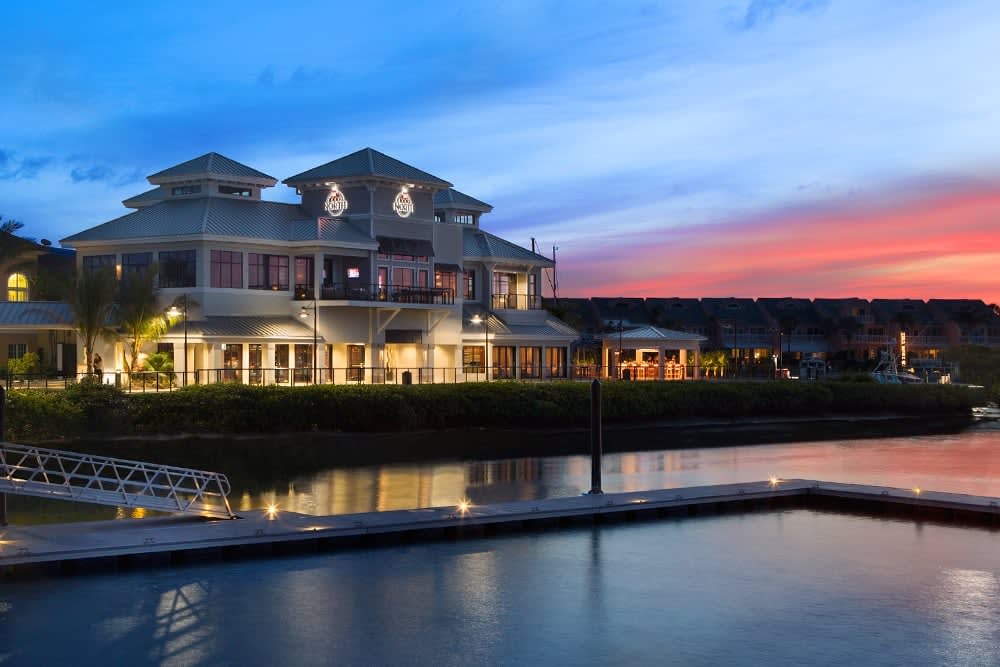 Credit: 1000 North


Humans are psychologically wired to be attracted to views of the water, and many of the luxury condos and houses of Jupiter feature stunning views of the local waterways. Even restaurants are designed specifically to take advantage of the stunning water views, and few restaurants in the area do this better than 1000 North.

Dining at this stylish restaurant is a true occasion. Featuring a delectable full-service menu, handcrafted cocktails, and outstanding service, 1000 North also boasts sweeping vistas of Jupiter Inlet's natural beauty from the main dining room and gorgeous terrace. With meticulously prepared plates of filet mignon and Maryland blue crab cakes, developer Ira Fenton says 100 North strives to cultivate "an experience people travel to Miami or New York to get." With impressive reviews and high customer satisfaction, this is the pinnacle of dining in the area.

1000 North elevates itself beyond being simply an excellent restaurant with their Club Lounge. Tapping into the privileged and nautical lifestyle of the area, Club Lounge members enjoy an array of benefits: concierge services, a private dining room, a chef's table, and even docking privileges. Whether you're meeting at the tavern for a drink after work, having date night on the terrace, or indulging at the Club Lounge, 1000 North Restaurant is a superlative experience.

Reservations can be made online or by phone at (561) 570 1000. Open Monday and Tuesday from 5 p.m. to 9 p.m., Wednesday and Thursday from 12 p.m. to 9 p.m., Friday and Saturday from 12 p.m. to 10 p.m., and Sunday from 11 a.m. to 9 p.m.



Guanabanas Restaurant

One could argue that Guanabanas Restaurant is more Florida than Florida itself. One of the few 100% open-air eateries, this kitschy spot is decorated with woven tiki huts, landscaped with local and exotic plants, and clad with Old Florida style-theming. Guanabanas opened as a humble sandwich shop for surfers in 2004, but it has since grown into the one-of-a-kind community hub it is today.

This restaurant is not just adjacent to the water of Loxahatchee River — it's literally on the water. Several dock piers stick out into the river and have wooden reclining deck chairs on top, perfect for sipping cocktails as you watch the sunset. However, Guanabanas offers much more than its waterfront selection. Guests enjoy fresh catch from their comprehensive seafood menu, all of which is sourced from Florida. Guanabanas was one of the first participants in the "Fresh from Florida" campaign and remains a leader in sustainable food practices for the area.

Another highlight is their tiki stage — set against a waterfall, no less. Frequently hosting national music acts like Pato Banton, Julian Marley, and The Fray, Guanabanas is a lively establishment full of playful atmosphere, color, and great food.

Open seven days a week, 11:30 a.m. to 9 p.m. (10 p.m. on weekend nights). Reservations are currently not accepted.



Snorkel at Dubois Park

Dubois Park is a scenic haven located at the mouth of Jupiter Inlet. Featuring picturesque views of swaying palm trees and the Jupiter Inlet Lighthouse, this park is a lovely place for families to enjoy a relaxed day.

Protected from the rougher surf on the beaches, the still, crystal-clear water is ideal for snorkeling and observing a colorful array of native fish. A nearby designated swimming area is perfect for young children to enjoy the calm, refreshing water in peace. The park is well-appointed with amenities, including playgrounds, picnic areas, grills, and bathrooms, that make it a popular spot for family and friends alike to spend the weekend.

Dubois Park also boasts some history as well. Located on the grounds is the Dubois Pioneer Home — one of the last remaining homesteads, which was constructed in 1898. Well-preserved with original furniture, a coquina fireplace, and kitchen appliances that are nearly 100 years old, this museum offers a glimpse into what life was like in Jupiter almost a century ago. Tours are available on the property Tuesdays through Thursdays from 10 a.m. to 1 p.m.



Diving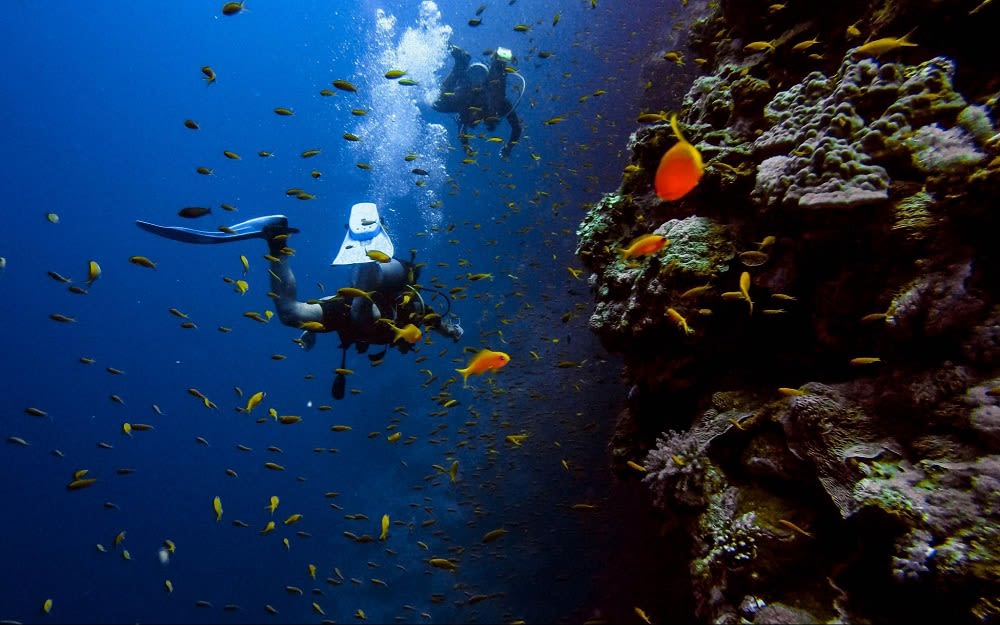 Don't just look at the water — immerse yourself in it! Underneath the glittering surface is an extraordinary world of incredible marine animals, breathtaking coral reefs, and fascinating shipwrecks. Residents of Jupiter don't have to travel to far-flung locales to go sea-diving. There are plenty of exciting opportunities in their own backyard.

Diving is an involved activity, but fortunately, the local Jupiter Dive Center makes it easy. A full-service dive center, this SCUBAPRO Platinum Dealer has an equipment repair shop, an array of classes, and two spacious 40-foot dive boats to bring you directly to diving sites. Explore their dive packages, certification classes, and specialty courses to see what works for you, and then dive in!

Their "Zion Train" dive is not to be missed. It starts with the wreck of a small freight ship, which is now home to enormous goliath grouper. The otherworldly adventure continues at Miss Jenny, an upside-down barge that is another favorite with the grouper. The piece de resistance is the Esso Bonaire — a 75-foot vessel known for the massive holes in her hull, which allow divers to safely explore her cabin area. Create unforgettable memories exploring this wreck in the presence of peaceful spotted eagle rays and cobias. Because there are so many other dive sites, locals can return for new and exciting underwater adventures time and time again.

Interested in learning more about water activities in the area or homes for sale in Jupiter? Please feel free to contact us — our team would love to show you homes for sale and Jupiter estates.