East Florida is a genuine waterfront paradise. As a Tequesta, Jupiter, or Palm Beach resident, exciting outdoor recreation amongst stunning scenery is constantly at your fingertips.

Taking advantage of your front and back yard spaces to create lasting memories is vital to an extraordinary life in Florida. By implementing aquatic features, flora, lighting, and comfortable furnishings, you can attain the relaxing air you desire in your outdoor spaces.


Greenery

Creating an inviting atmosphere where you can spend your free time catching some Florida rays, jotting down your weekly goals, and entertaining guests begins with a lush, green space. You want your garden area to feel like a tranquil retreat where you can escape when life gets complex and overwhelming.

There are plenty of native flowers you can plant to breathe life into your garden. Beach sunflowers are an excellent option for ground cover in coastal areas because they love sandy soils, tolerate high salt levels, and are very drought-tolerant. Black-eyed Susans are another great choice for the same reasons — they add a bit of vibrancy, coming in yellow, orange, or red varieties. Border your gate, walkway, or home with some high-climbing blazing stars, passion flowers, or coral beans for colorful flowers that grow five to 15 feet in height.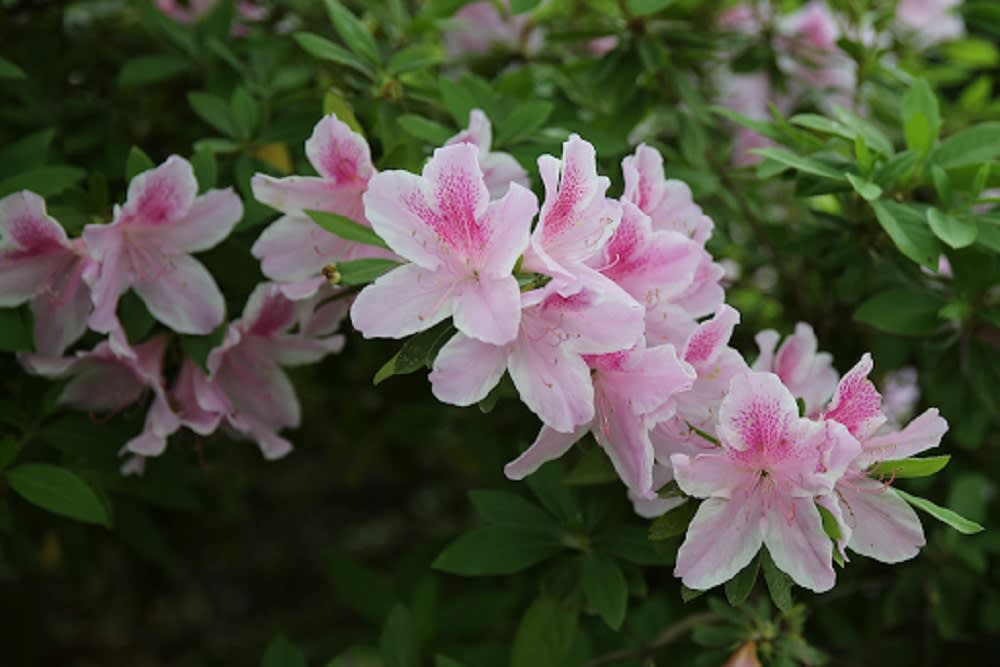 Native Florida shrubs are inexpensive plants that bring beauty and ground cover with minimal effort. Azaleas are simply stunning and grow well in partial shade, boasting spring blossoms of bright pink, white, red, or other colors depending on the cultivar. Go with versatile muhly grass for a less colorful option when grouping or bordering plants. There are plenty of native shrubs you can utilize to add allure to your garden.

Native Florida trees can add a whimsical focal point to your outdoor space. Buttonwood trees are captivating with their multi-trunked, contorting base, and can be used as a central point of interest or lined up in a row to form a privacy hedge. Florida maples are a beautiful, smaller version of the northern sugar maple that's tolerant of Florida heat while still providing yellow and orange leaves in the fall. Showcase your love for Florida by planting a couple of sabal palms, which add a tropical feel and offer shade to your pool or patio.

Whether you live in Jupiter, Tequesta, or Palm Beach, East Florida living makes for an ideal location to grow perennials, shrubs, and trees that add elegance and liveability to your front and back yard. Many companies offer excellent landscaping services in East Florida, including Simplified Landscape and Lighting, Nielsen Landscape Architects, Jupiter Landscaping, and Roots Landscape Service, LLC. These companies will help you construct the right patio, deck, rock formations, greenery, and other landscaping features to create the perfect outdoor living space.


Lighting

Now that you have all this stunning foliage in your front and back yards, you'll want to illuminate these areas for elegance and functionality. Path lighting helps you navigate while also attractively highlighting walkways. String lights are ideal for hanging around your backyard dining table while evoking a warm, intimate ambiance. For a chic way to brighten shadows around the yard, place wall lighting on your pagoda, above stairways, around sunken seating areas and pools. Wall sconces, lanterns, and deck lights are crucial to ensure you and your guests don't trip once the sun goes down. In addition, up-lighting is another helpful form that showcases lovely plants, trees, or lawn ornaments. Check out Wayfair's multitude of options to create an oasis at home.


Aquatic additions

Nothing adds to the beachfront vibe of Florida outdoor living more than an aquatic element. You can opt for a small yet appealing water fountain or go for a significant change by adding a swimming pool to your backyard. Whatever choice you make, adding a water feature will undoubtedly add luxury, appeal, and enjoyment to your outdoor space.

A majestic cascading waterfall can be a standalone feature or lead into a pond or swimming pool. This feature is beautiful and can be as basic or extravagant as you'd like. Planter pots and cascading ceramic bowls are excellent choices for affordable and striking features. There are many options for fountains, which make for a soothing and eye-catching water feature that will certainly impress your guests and put you at ease after a long day of work. A water garden is another beautiful addition that excites the eyes and ears as water trickles among aquatic plants and wildlife.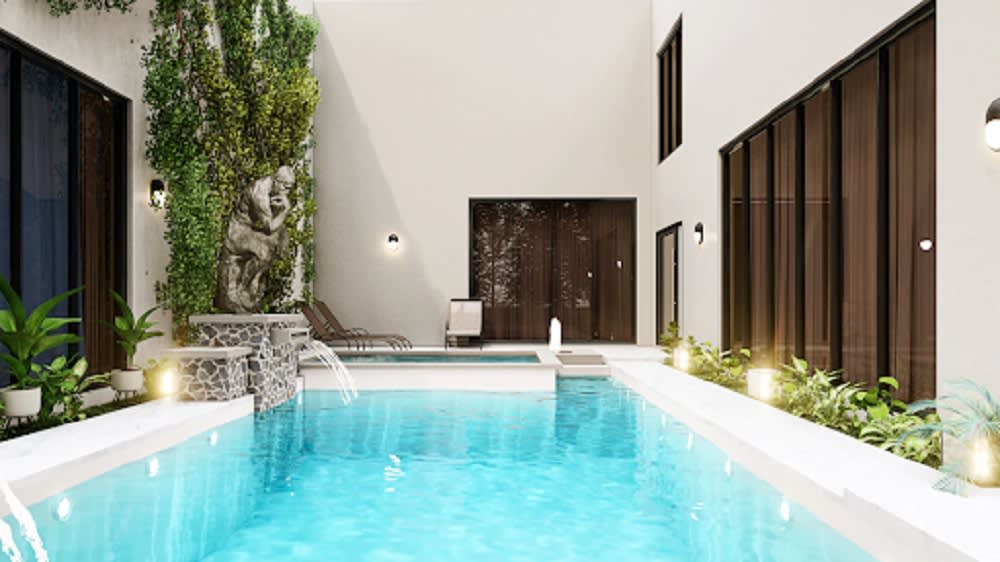 For a more significant and show-stopping feature, add a pond, pool, or brook. Ponds can be a home to koi or goldfish or act as a collection point for a waterfall. Adding a babbling brook to your garden or terrace brings a tranquil element that will have you feeling relaxed within minutes. A pool adds luxury and makes an ideal setting for fun, exercise, and opulence. LivingWater Landscape and Tranquil Waterscapes can manage all your custom water feature needs. Additionally, Cristallo Pool/Backyard Concepts can build you the perfect lavish pool for cooling off on hot days.


Patio furniture

Outdoor living spaces wouldn't be complete without comfortable and inviting patio furniture. There are various options suitable for your style and purposes, ranging from beachy wicker to elegant wrought iron. Whether you're shopping based on durability, elegance, or somewhere in between, you'll find something worth adding to your outdoor living space.

A porch swing or day bed on your terrace effortlessly adds coziness. Add a small coffee or accent table and a warm and soft overhanging light, and you have the perfect setting to drink a glass of wine and reflect on your day. Alternatively, a small rattan/wicker, solid wood, or metal set with two chairs and a table makes a lovely seating area that takes up minimal space but adds a great deal of charm. You'll save the larger pieces for your backyard area. Here you have plenty of room for dining sets, seating groups, and more.

If you want something durable that emanates beachfront vibes, opt for some resin wicker sets. This 10-person seating group adds a sophisticated element for guests to lounge on and enjoy delicious food and fantastic company. For a smaller, more colorful option, go with this Evangeline seating group for four. Metal furniture is an excellent option if you prefer modern furniture with clean lines. There are many coastal rust-resistant styles available. Alternatively, add some weather-proof tropical Shorea wood sofas, chairs, and tables, which come in various colors to fit your theme.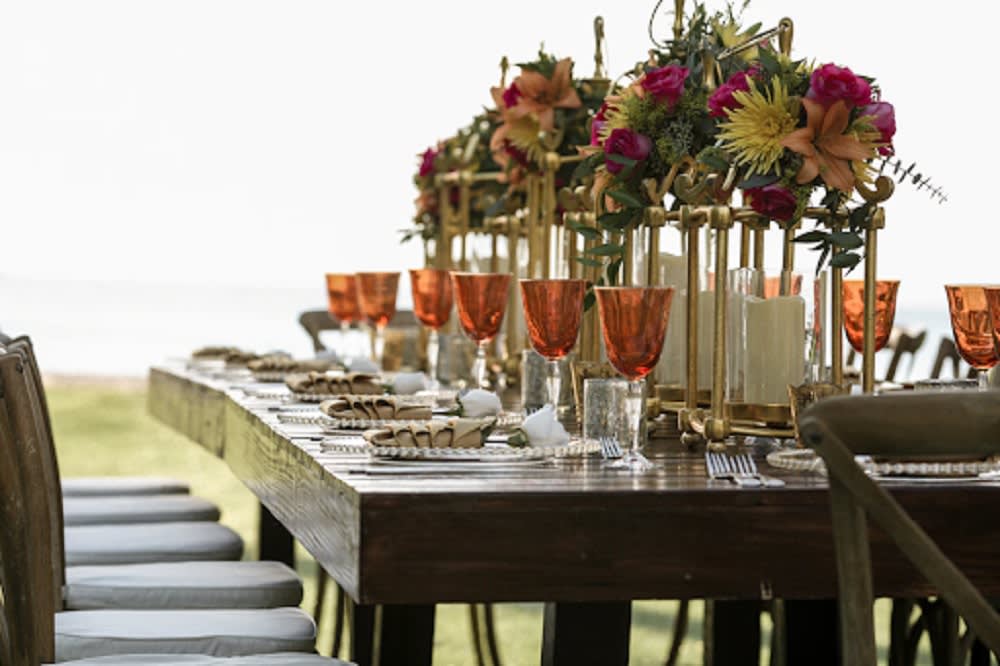 An outdoor dining set is a must for taking full advantage of the beautiful Florida weather. There is a broad range of dining sets to choose from, including bistro sets and long sets with cushions, picnic tables, and rectangular sets with umbrellas. Wayfair has a vast selection of outdoor dining sets. If you prefer to see furniture in person and assess whether it fits the vibe you're going for, drop by Casual Living Patio & Poolside, Marie Antoinette's Furniture, or Palm Beach Patio Furniture to pick up a new set. Add some overhanging lights, some comfy seat cushions, and you have yourself a ready-made party place for you and your friends.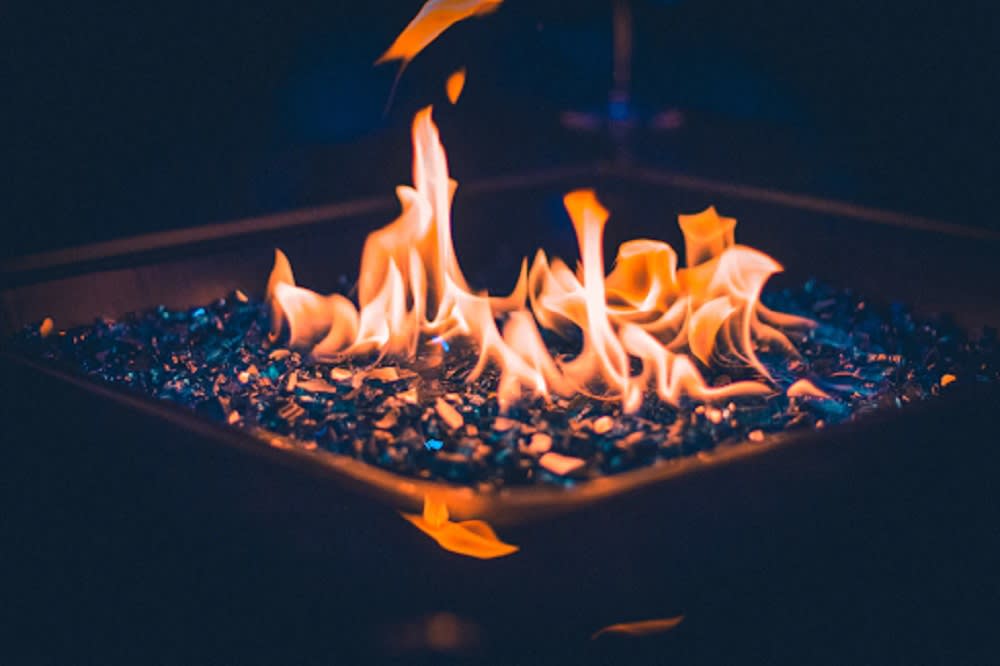 Fire Features

As you design your ideal outdoor space, remember to plan for the colder months. A fire element adds significant flair and warmth. Fire pits can range from cauldrons to stones, in-table pieces to bowls. Regardless of which option you choose, adding a fire pit of any kind instantly creates an inviting gathering spot.

This cocktail table is weather-resistant, features a slide-out drawer for propane gas storage, and looks incredibly sleek. Create a focal point by placing your comfortable outdoor sofas and chairs around the multi-functional Malibu Fire Table, adding elegance without the ash and soot of a typical open fire. This concrete fire pit is a more expansive piece, suitable for a larger seating area and guest list.

For something rustic and minimalist, opt for the Acadia rustic copper fire pit, which comes in various sizes to suit your needs. If you prefer a more inexpensive wood-burning option that adds intrigue and whimsy, purchase this steel fire pit ideal for roasting s'mores with the kids or a late-night chat around the fire with close friends. Shop4Patio has a plethora of fire pits to fit your style.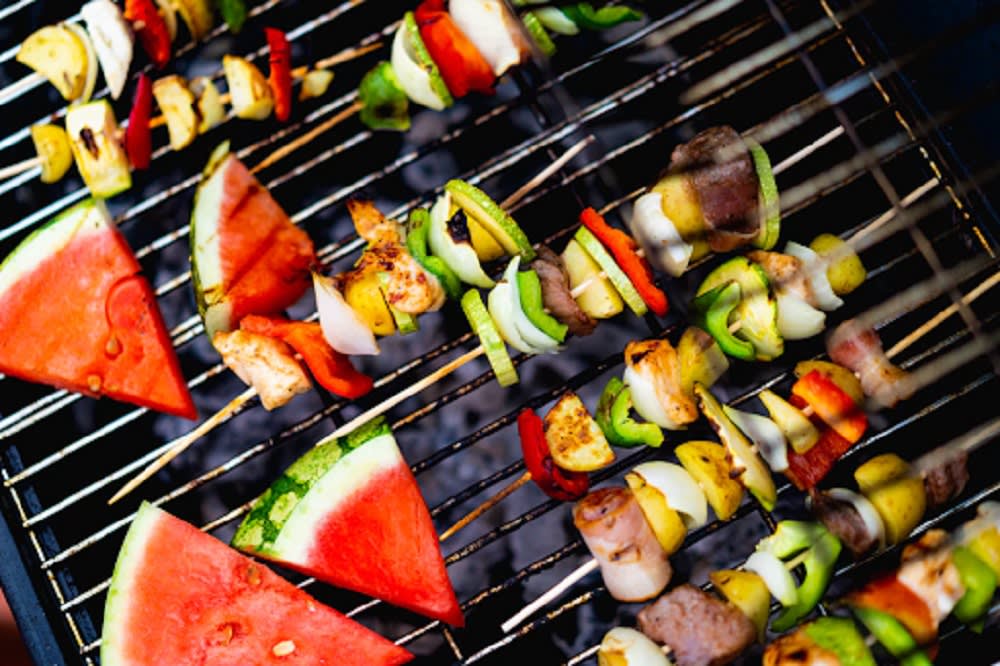 Another place people gather to socialize and warm up is the grill! Wayfair has a multitude of grills to choose from that you can get shipped right to your door. For a more in-depth analysis on which barbecue is suitable for you and your family, head to Island Living & Patio in Palm Beach, where the selection is teeming with top-of-the-line outdoor kitchen appliances. Spark up the grill, throw on some veggies, and get the party started!

When you're ready to move to Tequesta, Jupiter, or Palm Beach to enjoy the luxuries of outdoor living, contact realtor McKinley Navaroli. McKinley lives in South Florida and will use her extensive knowledge and tenacity to find the ideal eastern Florida property for you.